Mecanic Sud Industrie, Béziers site, is now NADCAP certified for HVOF coating
A HUMAN SIZED INDUSTRIAL GROUP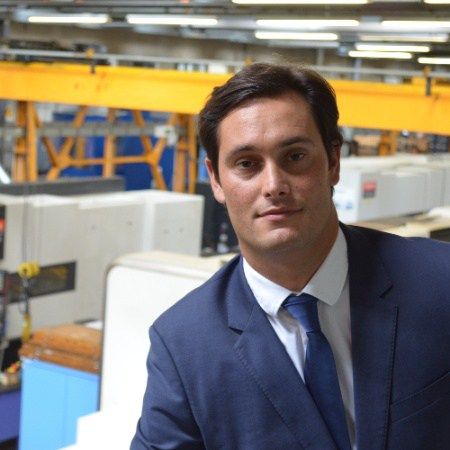 Pierre Damien ROCHETTE,
General Manager

Here for you for more than 40 years
Delivering products in more than 15 countries, employing 150 people, Rochette  Industrie Group is a reference on the worldwide market of subcontractor for mechanical and hydraulic sub assemblies, integrated special processes and precision machining in key markets.
Manufacturing the hydraulic and mechanical assemblies, Rochette Industrie Group answers to the technological and industriel challenges its customers have to face in an ever changing world. We support you with our flexibility and agility to face these challenges.
Capable of integrating the whole product value chain in an international market, Rochette Industrie procure the material, machine as per drawing, integrate the special processes in house, assemble and test any customer design. Rochette Industrie Group is your key partner in any demanding environment.
It's financial strength guarantee the stability of its branches
Cross fertilization of its talents improve its productivity
Sharing good quality policies and practices accross the group guarantee best in class manufacturing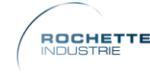 A real value chain
From co-development to complex assembly and test, including material procurement, its 71 machines (MAZAK, MORI SEIKI, BROTHER) and special processes deliver a global turn key solution with full responsibility of the conformity of the final product.
The value chain in Rochette Industrie Group :
Design : Co-development and API 6A products
Industrialization
Material : Partnership and contract with material suppliers
Precision machining (4 axis turning, 5 axis continuous milling, cylinder grinding)
Special processesses (HVOF, LASER, QPQ, PTA)
Manual trim
Surface treatment (OAC, OAD, painting, Molykote, Nickel, Chromium either in house or subcontracted to a network of qualified suppliers)
Dimensional control, Tridimensional control
Complex assemblies of mechanical and hydraulic assemblies
Hydraulic test (700 bars)
Delivery (Worldwide)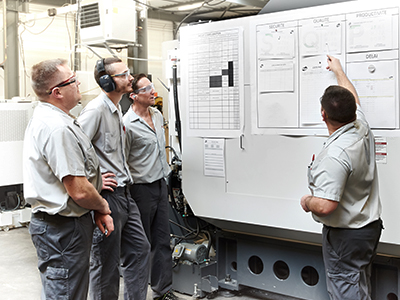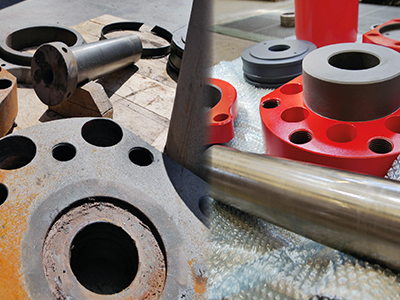 Rochette Industrie Group is present on the whole value chain, from new built to after sale.
Disassembly, control, inspection
Repair proposal
Hydraulic and mechanical assemblies repair
Workshop equipped with welding, cladding and anti-corrosion treatment equipments
Workshop equipped for machining of hot shot simple parts
Quality control / deliveries
Rochette Industrie Group is able to work on industrialization or series phase in France then in best cost zone as per offsets requirements or to optimize series costs.
In the past years, the group opened 2 factories in Romania and Singapore for one of its key customer.
Aeronautics, spatial, defense
Active in this market through the branches Mecanic Sud Industrie (MSI) and Mecanic Centre Aeroptic (MCA), Rochette Industrie Groupe manufacture for its customers (tier 1 and 2 in Airbus supply chain), parts and mechanical subassemblies in light (aluminum) or hard metal (Inconel, Titanium) and plastic
These parts can be found in civil and military aircrafts, missiles and optics, our parts are manufactured as per EN9100 and customer's specifications. We handle the complete value chain management with machining, material procurement and surface treatment such as in house NADCAP certified HVOF coating
Our branches Mecanic Sud Aftermarket (MSA), Mecanic Sud Industrie (MSI) are on this market with manufacturing of parts and mechanical and hydraulic assemblies  in hard metals (steel, inconel, titanium, stainless steel) and light metal (aluminum, cupro beryllium)
The parts we manufacture are used in onshore and offshore safety equipments (BOP, valves, skids,…) and measurement tools (electronic support chassis, cladded protection parts) to be used in High pressure / High temperature (HP/HT) environments.
MSI also propose a range of in house products as per API 6A and API 7-1 standards in our Béziers workshop.
These equipments are manufactured as per API Q1 and ISO 3834-3 either for new built or aftermarket. 60% of the Group's Oil&Gas activities are exported to tier 1 international manufacturers.
Oil & Gas
Glass Industry
Integrated in our customer's site or performed in our workshop, the maintenance and repair of molds and variable equipments are entirely done by our teams.
Following the most stringent HSE and quality requirement in the market, our brach Mecanic Sud Services (M2S) is regularly ranked as a top performer or the service industry in the glass market.
Trained for the change of mold in the glass furnaces, our teams work along our customer's teams for these precises operations.
Our teams can adapt to your planning, in 3 shifts if needed.